I mean, who wouldn't want that for a name? Oh Johnny Cash, things could've been so different for your titular song character if only a "Tira-" had been added to his name. There's a reason people always nickname their loved ones after delicious treats (Sweetie Pie, Sugar, Honey, Babe….uh…that last one might mean your loved one is a cannibal, so you may want to keep a suspicious eye out if you get called that one a lot 😉 ).
My original intention for today was to try and do something New Year's-y, but it never really quite came together, so you'll have to suffer through these instead 😉 . Full disclosure, I think I just had too many things I was considering doing for New Year's and ended up in decision-paralysis mode (I sometimes think that's my default setting), and so nothing got done/made. However, I will keep to myself the things I was considering so that I can still crack them out at a later date, hopefully never mentioning that it was originally supposed to be for New Year's (pro tip – if you notice a future post that looks either very sparkly or very black-and-white themed (or possibly both?), you will likely be entirely correct in assuming that it should've been a key element to ringing in 2018).
Sometimes at this time of year I think I should do posts about healthier things since I know that's what everyone pretends to be all about starting January 1st. These little delectable bites of goodness are definitely not quite the same as eating goji berries and drinking Kale smoothies or anything, but I feel that they perfectly straddle the fence of decadence and classiness without breaking the proverbial diet plan as it were. So if you realistically assess your life in the following way:
Then this might just be the dessert for you. They're a delicious combination of coconut butter, cashew butter, cocoa and dark chocolate (antioxidants anyone?). Throw in the required caffeine so that you can truly label these Tiramisu-y (and which hey, might make you less tired and more able to make good choices):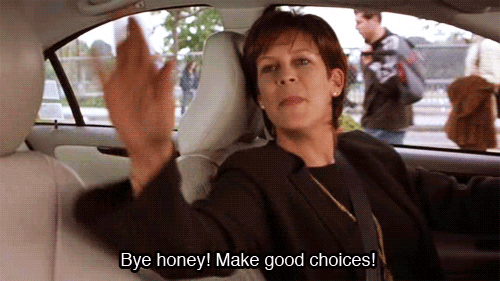 and you've got yourself some fudge you can really sink your teeth into. However, if you don't care about all that nonsense, just feel free to cut your pieces to a much healthier size (ummm…probably wrong choice of words here. More Texas-sized pieces – and by Texas-sized I basically mean "cutting" it into 1 giant piece 😉 ).
My pretend nod to today being New Year's eve however is that, according to Wikipedia, Tiramisu translates to "pick me up", "cheer me up" or "lift me up". People get cheered up around New Year's, possibly drink a few drinks as a pick me up and, the coup de grâce, in order to ring in the New Year in the "traditional" way, the iconic ball must be first lifted up! Am I right? Have I saved myself? Can we all officially consider this a New Year's post now? I say nailed it – Amber for the win!
Total side note, but (as I am wont to do when writing things) I fell down the rabbit hole of looking up where the origins of dropping a ball to ring in the New Year even came from (and how have I never wondered about this before???!!!). I feel it is my patriotic duty as a citizen of the internet, to share my newly discovered knowledge with you so we can all start off 2018 feeling just that little bit smarter. From this article in the New York Post:
…when the Times moved to what was then called Longacre Square, the paper's publisher, Adolph Ochs, unleashed a splashy fireworks show — complete with the dynamite — to compete with the now-defunct New York Herald, which had opened Herald Square to much fanfare in 1902.
"It was a publicity stunt," said Tim Tompkins, president of the Times Square Alliance. "But people got nervous fireworks would burn something down."
On Jan. 1, 1905, the Times' front page blared, "A few minutes before 12 o'clock, a dynamite bomb was fired from the tower . . . First they showed white against the sky. The color changed and they burned red. It seemed almost as if the building were aflame." And, despite the near-disaster, it added,
"Never was a New Year's Eve more joyously celebrated.''
But the dynamite, which was fired off again the following year, irked the police, which banned explosives in the Big Apple by 1907. That year, Ochs hired sign-making company Artkraft Strauss to build and lower a 700-pound wood-and-iron ball covered in 100 25-watt bulbs.
So I suppose it's technically a bomb + fireworks replica? Either way, I enjoy me a good story, so there you have it 🙂
Happy Tiramisu Year everyone!
Tiramisu Fudge
Yield: 1-2 dozen (depending on size you want them)
Ingredients
Vanilla Layer:
1/4 cup cashew butter
3 tablespoons coconut butter
1/4 cup amaretto
3/4 teaspoon apple cider vinegar
1 teaspoon lemon juice
pinch of salt
3 tablespoons maple syrup
1 tablespoon icing sugar
3 tablespoons coconut oil
1/4 teaspoon vanilla extract
1/8 teaspoon almond extract
Chocolate-Coffee Layer:
3 tablespoons cocoa powder
1/4 oat flour (or regular flour – although I would toast it a bit in a pan on the stove if you do regular flour)
2 tablespoons cashew butter
1 tablespoon coconut butter
2 tablespoons coconut oil
1/3 cup coffee liqueur
2 tablespoons maple syrup
2 tablespoon icing sugar
pinch of salt
1 teaspoon lemon juice
2 tablespoons melted chocolate
1-2 teaspoons instant coffee powder (depending how strong of a coffee flavour you like)
1/8 teaspoon hazelnut extract (optional)
cinnamon and cocoa for dusting
Directions
Line a 9×4 loaf pan with parchment or wax paper (you don't have to do this, it'll just make removal easier later)
In a medium sized mixing bowl, blend together all the ingredients for the vanilla layer. Place in the fridge to slightly firm up while you make and chill the coffee-cocoa layer.
In another medium sized mixing bowl, blend together all the ingredients for the coffee-cocoa layer. Spread evenly in the bottom of your loaf pan and chill in the freezer for about 15 minutes.
Spread the vanilla layer on top and return to the freezer for an hour or two, or until firmed up. Sift cocoa and cinnamon over the top and cut into desired sized pieces.
Store in the refrigerator.