Death by chocolate, is there really any way to go that sounds sweeter? Maybe drowning in boiling melted chocolate would not be so great due to the whole burning your flesh thing (and also, you'd likely get chocolate up your nose and that just sounds both unpleasant and incredibly wasteful 😉 ).
So my book club bud (actually, we've known each other since 2nd grade, so that would be almost years now we've known each other – sorry, the computer kept redacting the years no matter how hard I tried to type it in, so the actual number will just have to remain a mystery 😉 ) Farrah had a (vegan) friend from work for whom she wanted to bring in a cake and asked me if I'd be interested in making one. I of course said yes immediately because….baking (I mean, did that even need to be said here? Baking is awesome-sauce). I was actually incredibly excited about this because, if you recall my mentioning in my post from last week, I don't often make full on cakes because they are dangerous to have around when you're likely to be one of the only ones consuming it (because you know, you don't want it to go bad or go to waste right? Of COURSE I have to eat five pieces in one sitting, it's not that I WANT to, it's that if I don't it'll go bad and I'll have to throw it out. I mean there are people starving in other countries and you're just wasting deliciousness like that? I say, do it for the children. Completely altruistic – have I mentioned that I DON'T moonlight as a nutritionist? 😉 ).
When I asked what kind of cake she wanted, chocolate being of course a universal crowd pleaser, chocolate cake with a chocolate frosting was deemed the ideal choice. Unfortunately, I have problems with just doing something so vanilla (er…chocolate 😉 ).
On the one hand, I of course wanted to remain as true as possible to the request, but on the other hand, I had to mix it up at least a little right? RIGHT????!!! (Sorry Farrah, I have problems) I figured this was my opportunity to be a bit more creative on the decorating front. And then, instead of just a basic sheet cake, I figured a layer cake would be more fun (I don't know why I thought that because I honestly almost always have issues frosting layer cakes – unless they're supposed to have weird dips in the side "showing off" where you stacked the layers? – but what better way to learn then when you have no room for error right? Luckily though, this cake frosted up a dream. If I can do it, you can do it).
And who wants the same filling as frosting coating their cake? (OK, if the frosting's amazing, then probably everyone wants that, but I just wanted an excuse to mix it a up a little bit). Chocolate being the rich beast that it is (if I marry it, then can I live the baking life of leisure that I've always dreamed of? 😉 ), I opted to do a chocolate-date filling to up the sweetness slightly and uh…make it healthier? (no, that's not true at all. Have I mentioned that under no circumstances should you acquire your healthy eating advice from this blog? There's a reason this is not called the "Healthy desserts with everything in moderation" blog. First of all because that's a terrible name and takes too long to say. And second of all because I would be instantly sued for false advertising…or possibly cause someone to go into a sugar coma thinking they have license to eat a whole cake because it's "vegan so it must be healthy right?" (spoiler alert…but sadly, that is oh so wrong. I know, I often cry about it too).
Now quality control is of course always required, but I obviously wasn't going to cut a slice out of the cake in advance (although you would've been cool with that right Farrah? 😉 especially if I did it like this?):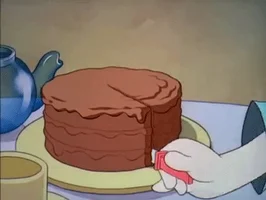 Luckily, it being a layer cake and me actually wanting the layers to stack nicely, I got to slice a huge hunk of cake off the bottom half, which I broke into pieces and proceeded to make a few "mini layer cakes" to make sure it tasted good. I wish (but not really because they were embarrassingly hideous) that I had taken pictures of these sad little layered bites that I made for tasting. Were these bites delicious? Yes (Kevin actually instantly requested this as his next birthday cake…his birthday's in June, so maybe I should make it for him as a super belated birthday cake instead?). Did they look like a toddler had just grabbed a handful of cake and proceeded to shove it into their face? Most definitely (so thanks Farrah for allowing me to embrace my inner child…er…infant might be more accurate in this case 😉 ):
Triple Chocolate Layer Cake
Yield: 1 9″ round cake
Ingredients
Cake:
1/2 cup coffee liqueur
1/2 cup water
2 teaspoons instant coffee powder
3/4 cup cocoa powder
1/2 cup vegan mayonnaise (weird I know, but go with it)
2 teaspoons vanilla
2 cups cake/pastry flour (or all purpose is fine too)
1 teaspoon baking soda
2 teaspoons baking powder
1 teaspoon salt
1 cup vegan butter
1 1/2 cups packed brown sugar
1/2 cup cane sugar
4 egg replacer
Chocolate Date Filling:
1 cup Medjool dates
1/2 cup hot non-dairy milk
1/2 cup cookie butter (or substitute any kind of nut or seed butter you like)
¼ cup cocoa powder, sifted
¼ cup melted chocolate
2 tablespoons maple syrup
Large pinch coarse sea salt
Chocolate Buttercream:
3/4 cups vegan butter, room temperature
2 teaspoons vanilla
1/4 cup melted vegan chocolate
1 cup cocoa powder
2 cups icing sugar
2-3 tablespoons non-dairy milk
Directions
Preheat oven to 350F. Grease 2 9 inch round cake pans. Line the bottoms with parchment paper. Grease the paper and dust with flour, knocking out excess flour (I highly recommend not skipping this step, it will make removing the cake from the pan afterwards a breeze).
In a small bowl, whisk together the coffee liqueur, water, instant coffee powder and cocoa powder until smooth, then whisk in the mayonnaise and vanilla.
In a medium bowl, sift together the flour, baking soda, baking powder and salt.
In a large-ish bowl, beat together the butter and both sugars with an electric mixer. Add egg replacer one at a time, beating between each addition. Alternate folding in cocoa and flour mixtures until just combined.
Divide batter evenly between both pans and bake for 25-30 minutes or until a toothpick inserted in the center comes out clean. Allow to cool in the pans for 15-20 minutes (or longer if you're not too impatient) before carefully inverting each cake onto a plate or cooling rack to allow to cool completely. Once cooled completely, if you're not completing the cake right away, wrap each cake in plastic and refrigerate until assembling.
For the chocolate date filling, soak dates for 5-10 minutes in hot non-dairy milk.
Blend all the ingredients in a food processor (or blender) until completely smooth, scraping down the edges with a spatula as needed. Be patient, this will take a few minutes. If the mixture is too thick, add a bit more warm non-dairy milk (or water) to thin it out slightly. You want to get a really smooth and creamy consistency for your filling.
For the chocolate buttercream, beat together the butter, vanilla and melted chocolate in a medium sized bowl.
Slowly add the cocoa powder and mix to combine, then beat in the icing sugar.
Add the non-dairy milk slow, only adding as much as you need to get the right spreadable consistency.
Assembly: Carefully (and evenly) slice the top off the wonkiest looking of your cakes so you have an even surface on which to spread your filling (or feel free to do this to both if you want a flat top to your cake – save those cake bits though! They're delicious 🙂 ). Spread chocolate-date filling evenly across the top of this cake before topping with second layer of cake (Alternatively, if you didn't slice the top of the second cake, but you now decide you DO want a flat surface, you can always place the second cake on top upside down so your flat bottom becomes your top. I'm talking about cakes here people, not your posterior 😉 ).
Pour most of your frosting into the center of the top of your cake and using an offset spatula, evenly spread it down the sides and top of your cake until fully covered.