Baklava brownies!!!! For those times when you can't decide if you want crispy and nutty or rich and fudgy. Now you could just eat both things, or stack them one on top of each other after purchasing from various bakery locations. Or, if you're some kind of crazy billionaire and also want to be super over-the-top, you could always have this little delight: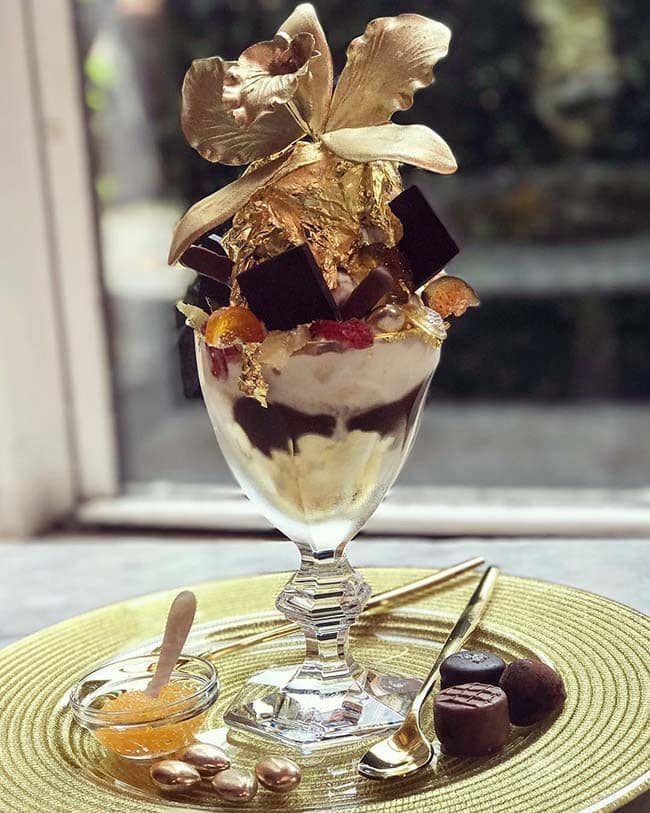 …which apparently costs $1,000. No, there is actually no accidental addition of a "0" there, you most definitely read that correctly. Now I know, I know, that's just chump change for you guys, but if for some reason, you're feeling like slumming it one day, I have an alternatively (and I'm assuming equally) delicious option for you. I can't confirm it's just as delicious because…even for you guys and in the name of research, that cost is just insanity peppers:
(side note: in case you were interested/ wondering, Guatemalan insanity peppers are a real thing – check this out. Mmmmm….bet you can't eat just one (aka even one 😉 ):
A substitute for that crazy expensive option (and this is obviously the much better choice), make your own fancy, over-the-top dessert , which I have for you right here, whereby you can control every delicious aspect of its towering layers of ooey, gooey goodness.
I mean, the shiny honey (or honey-esque if you want to use maple syrup or agave instead) coating is almost golden, so it's practically the same thing as having a gold infused dessert…but better because you can use your remaining $990 to, I don't know, go on a week long trip to Cuba or something and pat yourself on the back for all of your financial savings (don't pat too hard though because, if you're like me, you probably got a sunburn on that trip, so, you know, whacking yourself on top of sunburn may not be the most brilliant thing you can do – no wonder you can't afford $1,000 desserts with that kind of intelligence 😉 ).
Do you think if you made that crazy expensive sundae with fool's gold instead it would be cheaper? Mamma didn't raise no fool, so, uh, fool's gold seems like the ironically smarter choice 😉 .
Now sit back and show off your clear intellectual superiority by eating some of these Baklava brownies while listening to a little Bach(lava).
Baklava Brownies
Yield: 16 brownies

Ingredients
Brownies:
1/2 cup dark chocolate, chopped
1/4 cup + 2 tablespoons cocoa powder
1 1/2 teaspoons instant coffee powder
1/2 teaspoon sea salt
1/2 cup boiling water (or coffee)
1/3 cup coconut oil
3/4 cups cane sugar
3/4 cups brown sugar
2 teaspoons vanilla extract
1/4 cup hazelnut liqueur
1 cup flour
1/8 teaspoon baking powder
1/2 cup chopped chocolate (or chocolate chips)
3/4 cup of vegan butter
1 package phyllo pastry
3/4 cup honey (or alternative sweetner if not using honey – i.e. maple syrup, agave, corn syrup, or even vegan honey)
Baklava Nut Mix:
1 1/2 cups toasted and chopped nuts (I used a mix of pecans, almonds and pistachios, but you should be able to use virtually anything)
1/2 cup sugar
2 teaspoons cinnamon
1 teaspoon nutmeg
Directions
Start by mixing up your baklava nut mix by simply stirring together the nuts, sugar, cinnamon and nutmeg (i.e. all the ingredients under "Baklava Nut Mix")
Preheat oven to 350F and line a 8×8 inch baking tray with parchment paper (or grease, it's just easier to remove from tray after with parchment).
In a bowl, combine 1/2 cup chopped chocolate, cocoa powder, instant coffee powder and sea salt. Pour boiling water (or coffee) over and whisk/ stir vigorously until everything is melted and combined together and a smooth consistency is achieved.
Add coconut oil, both sugars, vanilla and hazelnut liqueur to the mixture and whisk to combine. Leave to cool for 10 minutes.
Once cooled, add flour and baking powder to the mixture and whisk until smooth.
Melt 3/4 cup butter in a microwave safe bowl. Spread the bottom and sides of the your baking dish with some of the melted butter. Place a sheet of phyllo in the bottom of the baking dish and brush generously with the melted butter (I used a pastry brush for this, but you could a spoon or whatever you have as well). Repeat with 6 more sheets of phyllo dough, brushing each sheet with melted butter. Spread half of the brownie batter evenly over the phyllo dough. Sprinkle just under half of your Baklava nut mix on top of your brownie batter. Layer 6 more sheets of phyllo dough, brushing each sheet generously with melted butter, on top of the brownie layer. Spread the remaining brownie batter over the middle layers of phyllo dough.Sprinkle almost all of the remaining nut mixture on top of the brownie bits, reserving some to sprinkle on top at the end (~1/4 is probably more than enough). Top the second layer of brownie batter with another 7-8 layers of phyllo dough, brushing each sheet with melted butter. Using a sharp knife, cut the unbaked baklava brownies into 16 squares. Brush with remaining butter and sprinkle with remaining nut mixture.
Bake for 30-35 minutes or until baklava is golden and starting to crisp on top. Remove from the oven and drizzle with 1/2 cup honey. Let baklava set for 3 hours then drizzle with remaining 1/4 cup honey. Place in the fridge for an hour or two to let it completely set up.
Store in the refrigerator.